This unique resort began with four igloos and one man's dream to provide the finest glass igloo experience in Lapland. Still family owned, Golden Crown now offers three styles of igloo, a first-class restaurant, and the luxurious Northern Lights House, a breathtaking experience for larger groups or families. 
Located on a remote fell 180km north of the Arctic Circle, this extraordinary Lapland retreat is within easy distance of Finland's largest ski resort, Levi. Those keen to hit the slopes will find ski lifts just 5km away. The luxurious and spacious igloos are designed to show off the dancing skies in extraordinary comfort. Beds are motorised to allow your perfect viewing angle and all igloos have non-fogging glass so nothing can obstruct the spectacle overhead.
The Northern Lights House is built partly into the hillside and magnificently equipped – including a refrigerator embedded in the wall of the private sauna.
The hotel's Aurora Sky restaurant is famed locally for the quality of its cuisine, and gives you a choice of experiences. Downstairs you'll dine in the cosy glow of the fireplace, while the upper floor gives you a clear view of the sky. And if the Aurora Borealis does perform its magic, just lean back in your tilting seat and enjoy the show.
Golden Crown originated from my dream. I happened to end up on the slope of Utsuvaara where the view was unforgettable and I wanted to share it with others as well.

Tauno Mäkelä | Founder of Golden Crown
An experience at the Golden Crown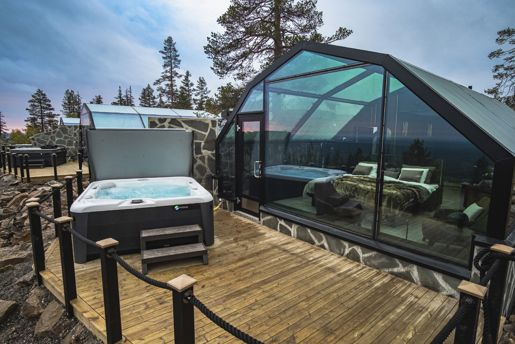 Royal Suite Igloos
Star of the show, spend a magical night under the glittering Aurora lights in one of three spacious, luxe igloos that sleeps up to four (two adults and two children under 13). Separate to the lounge and kitchen area, snuggle up in a majestic king size bed and have a drink from the stocked mini bar. Wind down in a jacuzzi on the private terrace adjacent to the igloo with views spanning across Finnish Lapland. Finish the day with a luxurious shower in the private bathroom.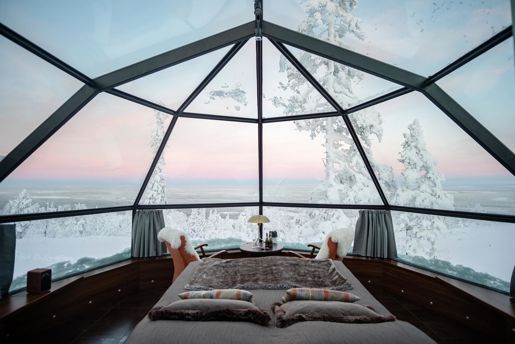 Deluxe Igloos
Slumber under the celestial Northern Lights exploding across the sky in an inviting, snug double bed, motorised for optimum comfort. Upon arrival, have a welcome drink taking in the view of the wilderness at your doorstep. Have a blissful shower in the private bathroom, slip into the complementary bathrobe and slippers before drifting off to sleep. In the morning, make a tea in the kitchen and tuck into the breakfast buffet at the Aurora Sky.
Superior Igloos
Offering spectacular views of the skyscape, stay in one of fifteen superior igloos situated on the edge of the wilderness. Rest after a long day of adventure in a cozy motorised double bed for ultimate comfort. After catching some beauty sleep, tuck into a hearty breakfast at the atmospheric Aurora Sky. A small modern kitchen and bathroom make up the rest of the igloo's interior.
The royal glass igloo suite
Bird's-eye view of the Royal Glass Igloo Suite in winter, Finnish Lapland
A bird's-eye view of the Royal Glass Igloo Suite in winter
Autumn at the Golden Crown glass igloo suite, Finnish Lapland
Watch the world go by from inside the Royal Glass Igloo Suite 
A view of Finnish Lapland from a bed in a glass igloo, Golden Crown
The view from the bed in the Royal Glass Igloo Suite during wintertime 
The exterior view of the glass igloo at Golden Crown during Autumn, Finnish Lapland
Surrounded by the Finnish wilderness, relax in the jacuzzi on the private terrace, exclusive to the Royal Suite
comprehensive view inside the luxury glass igloo suite at the Golden Crown, Finnish Lapland
The interiors of the spacious luxury suite during Autumn
Lounge area inside the glass igloo at Golden Crown, Finnish Lapland
Separate to the sleeping area, a lounge area complete with a dining table and chairs inside the Royal Glass Igloo Suite
A modern, luxurious bathroom inside the glass igloo at Golden Crown, Finnish Lapland
The luxury bathroom suite fitted with a shower, toilet and sink beautifully finished inside the glass igloo
Golden Crown | Levi | Finnish Lapland
Our Finland team can't wait to help you plan your stay in a glass igloo at Golden Crown in Finnish Lapland