Stretching 49 miles from north to south and 38 miles from east to west, the wind-swept Orkney Islands are separated from the Scottish mainland by the wild waters of the Pentland Firth. Beyond the famous standing stones and ancient sites, jaw-dropping coastal scenery, aurora-brushed skies, and seafood plucked from unpolluted waters make this mystical archipelago one of a kind.
Getting there & getting around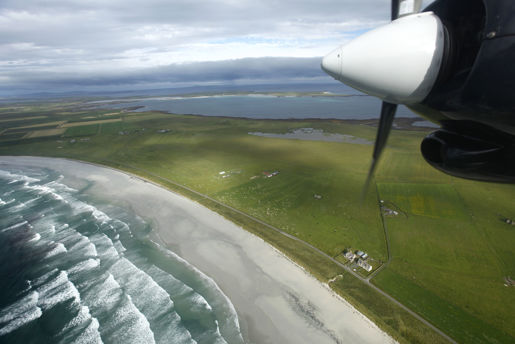 How to get to Orkney
These enchanting islands off Scotland's north coast are more accessible than you might think. For the quickest option, fly direct from Glasgow, Edinburgh, Inverness or Aberdeen. Or, if you're looking for a more leisurely route, opt for one of the three vehicle ferry links which run 39 combined sailings each week. Northlink sails from Aberdeen to Kirkwall as well as Scrabster to Stromness, whilst a Pentland Ferries route runs from Gill's Bay (near John o' Groats) to South Ronaldsay in just over an hour. Whatever you decide, we can pre-book all your flights, ferries and car hire.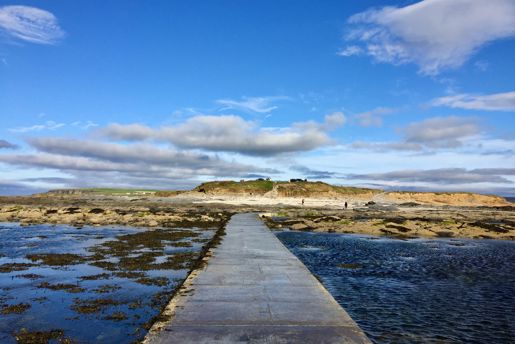 Self-Drive Orkney Holidays
Explore at your own pace on a self-drive holiday to Orkney. Choose to take an overnight crossing by car-ferry from Aberdeen or if you've time to drive to the far north of the mainland, shorter crossings are available. For those wanting a longer adventure of more than a week, combine a trip to Orkney with the North Coast 500 on the mainland, Or, if you're thinking of a fortnight away, explore both Orkney and the Shetland Islands in depth. Speak to one of our travel specialists to find out more.
To make sure you experience the very best that Orkney has to offer, before you travel we'll send you a list of recommendations including natural wonders, suggested activities, local attractions and places to eat.
Experiences on the Orkney Isles
The Ring Of Brodgar with views of the sea beyond on Orkney in Scotland.
Discover the "Heart of Neolithic Orkney"
This UNESCO World Heritage Site includes the tomb of Maeshowe, the Stones of Stenness, the Ring of Brodgar and the Ness of Brodgar. Get a glimpse of life over 5000 years ago at these ancient, mystical sites which are constantly being further excavated.
View across the causeway to the Brough of Brisay, accessible at low tide on Orkney in Scotland.
Walk to the Brough of Brisay
Walk to the Brough of Brisay, an island which contains Norse ruins which is only accessible via a causeway on foot at low tide. Marvel at the church of St Peter and small lighthouse to gain a unique insight into the ancient lives of Orkney's Norse settlers.
The colourful and ornate Italian Chapel on Lamb Holm, Orkney in Scotland
Marvel at The Italian Chapel
Visiting this unique building is a must-see excursion whilst in Orkney. Built during World War II by Italian Prisoners of War being held on the islands, The Italian Chapel was constructed from two basic Nissen huts. The inside was ornately painted and has been maintained as a beautiful, historic sanctuary.
The charming houses and harbour of Stromness in Orkney, Scotland on a sunny day
Day trip to Stromness
Visit Orkney's charming maritime town; the architectural gem which is Stromness. Wander down winding streets and discover independent shops full of beautiful crafts, textiles and jewellery. Explore the Stromness artistic scene at the Five-star Pier Arts Centre.
St Magnus Cathedral in Kirkwall on Orkney, Scotland
Visit St Magnus Cathedral
The formidable St Magnus Cathedral dominates the skyline in Kirkwall, Orkney's capital. Deemed the 'Light in the North', it was founded in 1137 by Viking, Earl Rognvald. See ancient headstones and marvel at the impressive internal architecture.
Scallops at The Foveran Restaurant, St Old, Orkney in Scotland
Dine at The Foveran Restaurant
With impressive sea views overlooking the historic Scapa Flow, this family-run gem is committed to using authentic, fresh Scottish produce in mouth-watering dishes which honour Orkney's culinary traditions.
The ruins of The Earl's Palace, Kirkwall in Orkney, Scotland
Roam the Earl's Palace ruins
Once a fine countryside castle, Earl's Palace was residence to Robert Stewart, half-brother of Mary Queen of Scots. Learn about the castle's difficult past as you wander around the magnificent ruins which stand as a memorial to a bleak period in Orkney's history.
Bird Watch at Marwick Head
The incredible Marwick Head RSPB nature reserve sits upon a cliff edge and is a haven for sea birds. Take in the outstanding sweeping views across the ocean as you look out for nesting and diving puffins, fulmars, kittiwakes and razorbills.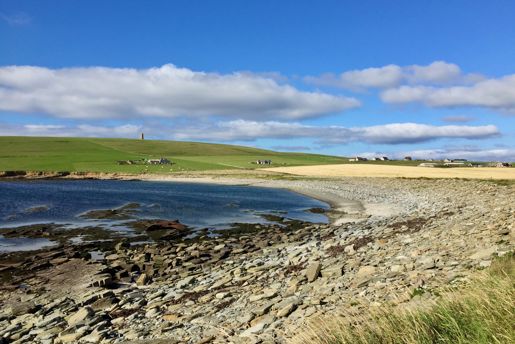 Take a wild walk to the Old Man of Hoy
At 137m, the Old Man of Hoy is the UK's tallest sea stack – made famous in 1966 when British mountaineer Chris Bonnington led the first ascent. Formed from red sandstone, the dramatic pinnacle juts out of the ocean off the eroded west coast of Hoy. From Moaness Pier, where the ferries dock, it's a full-day circular route through the Cuilag Hills to the dizzying cliffs at St John's Head. For a shorter but equally spectacular walk, follow the coastal path from Rackwick Bay.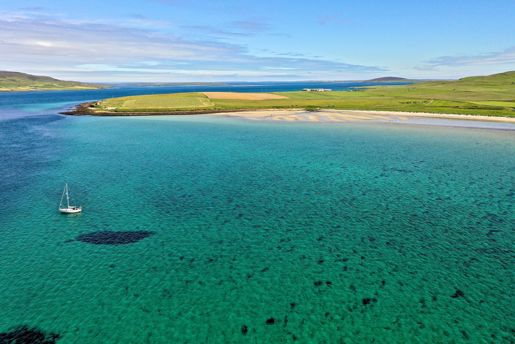 Dive the sunken wrecks at Scapa Flow
Sculpted by glaciation and sheltered by a ring of islands, Scapa Flow is one of the world's largest natural harbours and is steeped in maritime history. Vikings anchored their longships here, trading fleets took refuge during the Napoleonic Wars, and the seafloor is littered with the scuttled wrecks of the German High Seas Fleet. The sunken WWI battleships have become a haven for aquatic wildlife and are considered to be one of the world's top scuba diving experiences.
The ocean floor surrounding Orkney attracts divers from all over the world. From battleships resting at Scarpa Flow to smaller blockships closer to the coast, each wreck is a thriving eco system, teeming with underwater wildlife.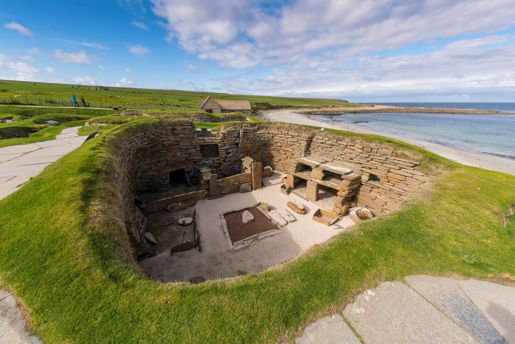 Get a glimpse of Stone Age life at Skara Brae
Predating Stonehenge, this 5,000-year-old village on Mainland lay buried under sand dunes for centuries until it was uncovered by a great storm in 1850. The Neolithic buildings have been remarkably well preserved, giving an unparalleled glimpse insight into Stone Age life on Orkney. Dwellings built from dry stone walls are linked by a series of passageways roofed with their original stone slabs. Inside, carefully constructed fireplaces, beds, cupboards and water cisterns paint a fascinating picture of cosy domesticity.
Wonderful Places to Stay in Orkney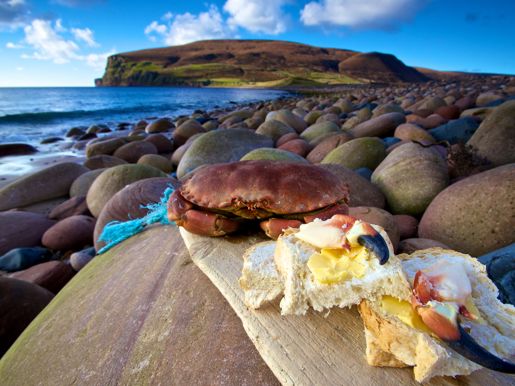 Crab picnic, Rackwick Beach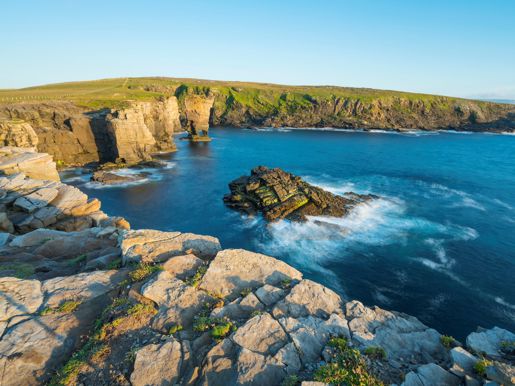 Yesnaby Cliffs, Mainland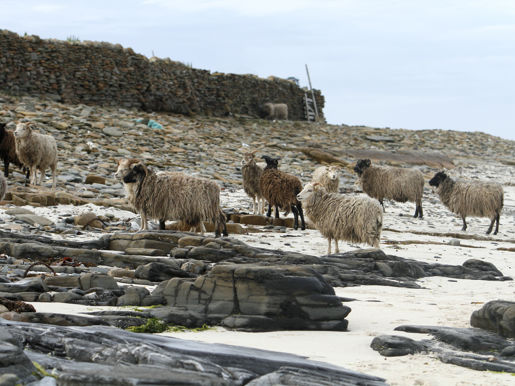 North Ronaldsay sheep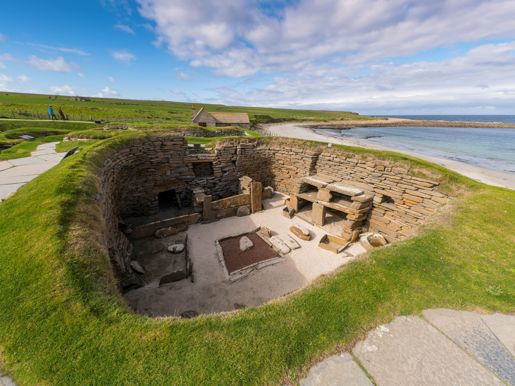 Skara Brae, Bay of Skaill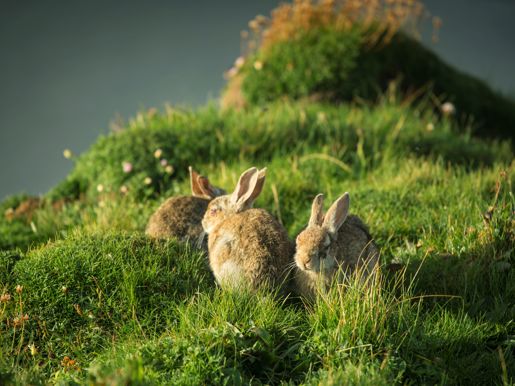 Rabbits, Marwick Head Nature Reserve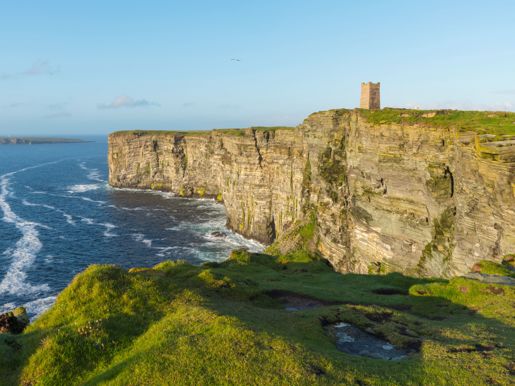 The Kitchener Memorial, Marwick Head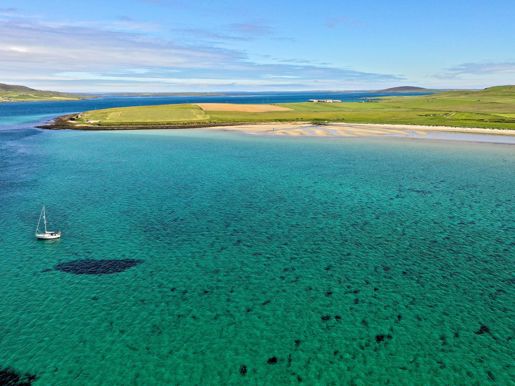 Airkerness Beach, Mainland
Speak to our Scotland team about planning your trip to Orkney