Torassieppi Aurora Domes 7v3.jpg
Glass Igloo & Aurora Cabin Holidays
Lapland
Scroll to content
Nestled between the snow-draped trees of the forest, enchanting thermal glass igloos and spacious Aurora cabins and can be found scattered throughout Finnish and Swedish Lapland. These luxurious pods provide lucky visitors with their very own private stargazing capsule where you can drift into peaceful slumber after a day of exploring the Arctic wilderness.
Glass Igloos & Aurora Cabin Holidays
Below you'll find a selection of some of our most popular glass igloo getaways and aurora cabin escapes in Finnish and Swedish Lapland and Northern Norway.
Glass igloos & Aurora Cabins in Lapland
Glass Igloos & Aurora Cabins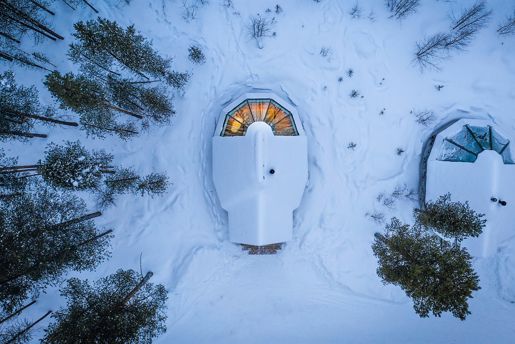 Best for Peace & Quiet
Nestled within a secluded forest in a quiet corner of the Finnish wilderness, Aurora Village is the ultimate place to find peace and quiet in unpolluted natural surroundings. Perfect for two, the spacious Aurora Cabins here have a large double bed, intimate seating area and a private bathroom. Lucky guests will also find a mini fridge, kettle, and capsule coffee maker inside. And the Aurora Alarm service will ensure you won't miss out on a spectacular display from Mother Nature during your stay.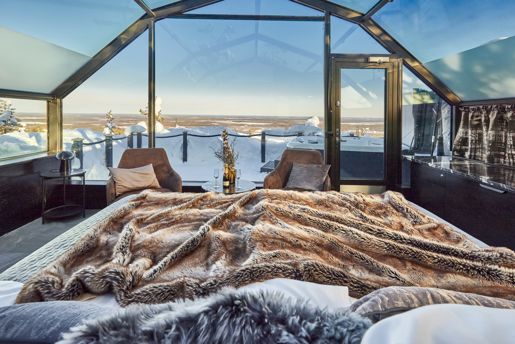 Best for Ultimate Luxury
Sumptuous interiors, exquisite cuisine, a well-stocked mini-bar, and a hot tub on your own private terrace; these are just some of the luxuries guests can expect from a stay in an exclusive Suite Glass Igloo at Golden Crown. With enough room for up to four guests, these marvellous capsules are fully equipped with a motorised double bed, kitchenette, and private bathroom. And with Finland's largest ski resort close by, it's perfect for those wanting to hit the slopes by day and aurora hunt in comfort by night.
Best for a Romantic Getaway
Seeking ultimate seclusion? Muotka Wilderness Lodge is set deep in the forest, on the outskirts of the pristine Urho Kekkonen National Park. This romantic retreat where rustic and luxurious interiors meet the tranquillity of the surrounding woodland, is perfect for honeymooners and those seeking a romantic getaway. Far away from any light pollution, Aurora Cabins here are spacious chalets with skyward windows, a seating area, and each has its own private sauna.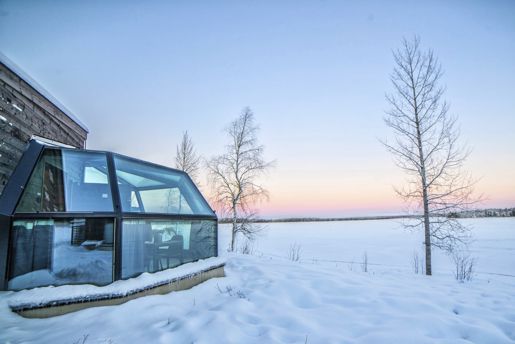 Best for Families
Perched on the peaceful shores of Lake Ranuanjärvi in Finnish Lapland, with unobstructed views across the glistening water, the lakeside Igloos at Arctic Fox are perfect for a family getaway. As well as a glass-walled bedroom which allows guests to sink into slumber under the stars, each spacious family igloo, sleeps four, and is well-equipped with a private bathroom, sauna and kitchenette. Close by, Ranua Arctic Wildlife Park, which is home to over 50 native Arctic species, is a fantastic and educational day out for all of the family. 
The Northern lights in the sky over a sky resort and the forests in Finnish Lapland
Skiing
Hit the slopes and weave through forests blanketed in snow whilst taking in the enchanting views across the vast Finnish Lapland wilderness. 
View through the snow-capped trees of someone on a snowmobile in the snowy forests of Finnish Lapland
Snowmobiles
Drive across frozen lakes and through snow-capped forests on an exhilarating snowmobile excursion. From day safaris to aurora-chasing night trips, this is the perfect way to explore the Finnish wilderness with speed.
A team of huskies pulling a sled across the snow in Finnish Lapland
Husky Safaris
Grab the reins for a thrilling safari deep into the untouched wilderness with your own trusty team of dog to guide you. From short sled rides, to a few hours with lunch included, you can even opt for a full day safari and in some locations overnight husky adventures.
A reindeer peering into the camera with the herd and the snowy forests beyond in Finnish Lapland
Reindeers
From photography and feeding options to sled rides and farm visits, meet Lapland resident reindeer and find out more about this iconic Lappish creature.
A group of people outside a sauna on the edge of a lake in Finland
Saunas
Entwined within the cultural fabric of Finnish society, saunas offer the perfect place to unwind after a day spent exploring the Arctic wilderness.
A group of people on an ice fishing excursion in Finland
Ice Fishing
Learn the traditional art of ice fishing whilst relishing in the peace and beauty of outstanding natural surroundings. Enjoy a fresh lunch outside, cooked on an open fire.
Two people walking through the snowy forests on a snowshoeing trip in the winter sun in Finnish Lapland
Snowshoe hiking
Blow away the cobwebs and head out on your own or with a guided group to explore the beautiful arctic wilderness in a pair of snowshoes. 
A group of people racing across the snow and ice on an ice karting adventure in Finland
Ice Karting
Experience racing across the ice and snow on an ice karting adventure.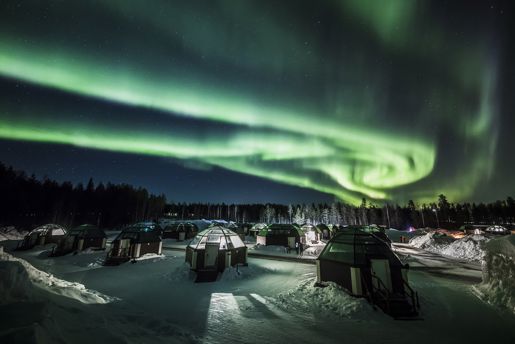 Igloo & Ice Hotel Escape
Fancy combining a night in a glass igloo with a night at -5°C? The popular Arctic Snow Village in Lapland's capital, Rovaniemi is home to a snow hotel built every year as well as cosy igloos for two and even larger family igloos for groups of five. And with an aurora alarm service, you can drift off to sleep safe in the knowledge that you'll be woken if the lights are dancing overhead.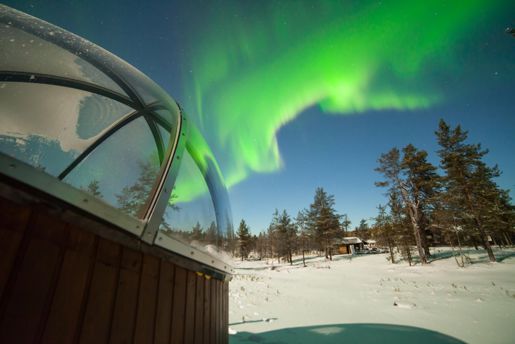 Lakeside Log Cabins & Brilliant Bubbles
Nellim Wilderness Hotel and Wilderness Hotel Inari, both located on the edge of beautiful Lake Inari, in the far north of Finnish Lapland, offer a selection of accommodation options to choose from. If you're wanting to split your stay between an aurora bubble and a log cabin or a lakeside chalet and a glass-roof dome look no further. 
Wonderful Glass Igloos & Aurora Cabins in Lapland
Glass Igloos & Aurora Cabins in Pictures
Let us help you plan your bucket list adventure in a luxury glass igloo or aurora cabin